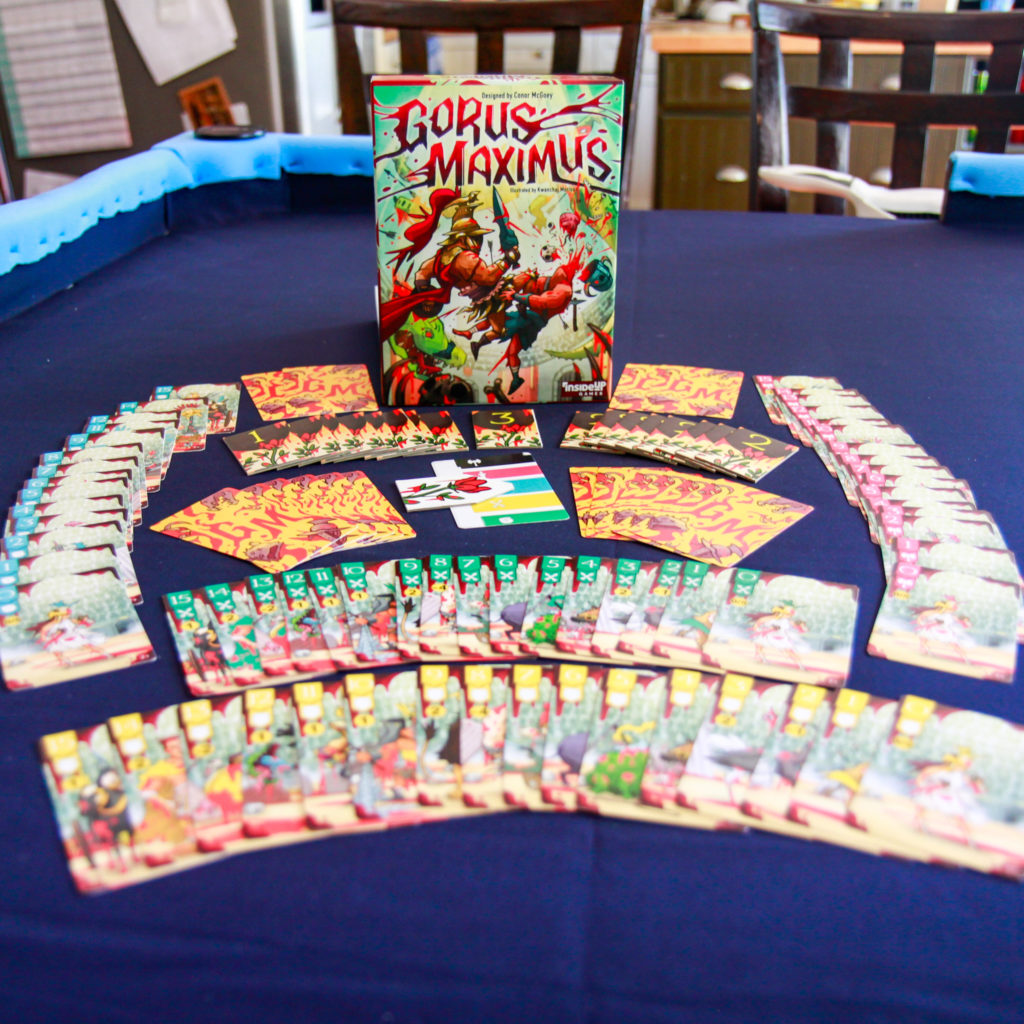 This week I got in contact with Conor McGoey of Inside Up Games to talk about their most recent Kickstarter – Gorus Maximus. The new Kickstarter really caught my eye for a few reasons – 1. The art on the cards is great and doesn't shy away from some stylised gore 2. It is a trick-taking game that can play at several player counts 3. It isn't overpriced, like so many things are at the moment on KS.
Inception of Gorus Maximus
Conor says that he didn't have a TV growing up so tended to play a lot of board and card games, hence his interest in the industry. He ran a construction company for the last 10 years but unfortunately got sick and during his down time he created Summit and decided to try it on Kickstarter. He says:
"It went well enough for me to create the expansion, and then Vault Assault and now Gorus Maximus. 2018 will be the first year I rely on publishing income instead of construction revenue"
I have to say that this is a great story in the industry, there are so few people who are able to rely on board games as their main source of income and it is awesome to see this happening for Conor. It continues to show that this industry is growing and able to provide livelihoods to people, who in turn can provide incredible games.
As for how Gorus Maximus came to be: 
"I love playing cards. We have a deck with us everywhere we go. My wife and I built the ground work for Gorus Maximus 10 years ago on a beach in Thailand, long before I ever guessed I would do this for a living! We wanted to make a trick taking card game for two players and it worked. Fast forward to my growth as a designer and I developed it more so that it could be played 1-8 players and both scale and remain enjoyable"

Art of Gorus Maximus
Kwanchai Moriya is one of my favorite artists in the board game industry, with incredible work on Flip Ships, Kepler  3042 and my favourite Dinosaur Island.  His art is typified by heaps of colour and fun, pop oriented themes, it is the kind of art that definitely stands out, especially if it is in store next to Euro games! The art for Gorus Maximus straddles the line between gory and playful and has a great look to it and as I said earlier it is one of the things that really drew me to the game. Conor met Kwanchai at Gen Con last year and hit it off through a mutual respect for each other's craft. At the time they talked about collaborating, and then finalized plans at SHUX last year.
Conor as gamer and designer
Conor likes to play a variety of games to keep things interesting with currents games that hit the table being: Terra Mystica, Scythe, Tortuga 1667, Charterstone,  Gloomhaven, 7 Wonders, Secret Hitler and Captain Sonar. 
When asked what his 'desert island' game is, he replies: "I'm too logical.. I am already thinking logistically about what games could be played on a deserted island.. with all the elements…. it would have to be something that can take the abuse and plays well at 2 players…. I probably shouldn't say Gorus Maximus even though the plastic cards would hold up great!….. maybe Blokus? That should hold up ok? Although losing a piece would be infuriating!"
After looking at previews and reviews and speaking to Conor, I would definitely recommend that you should check out Gorus Maximus, it has around 10 days to go and has hit a bunch of stretch goals – plus for around $30AUD you can get a copy to your door here in Australia!