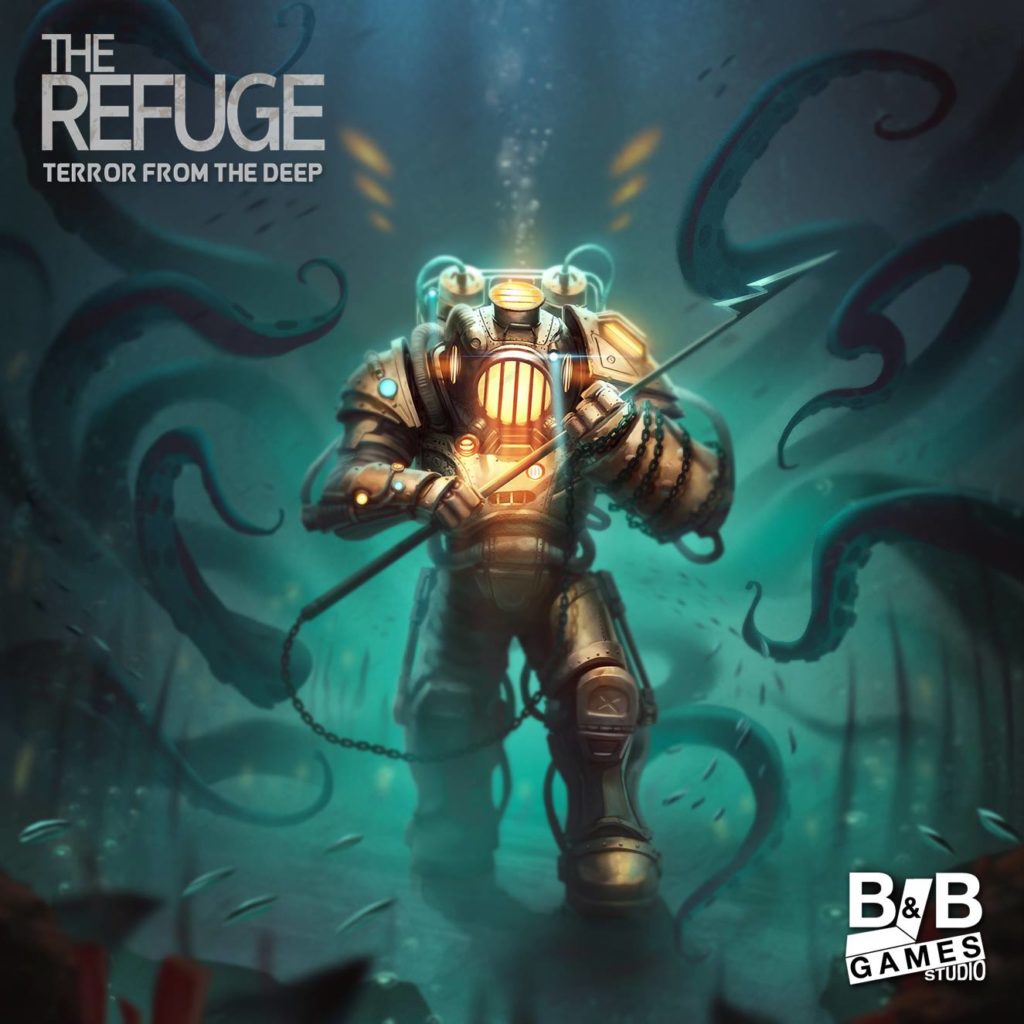 Floyd Lu and John Brieger's game – The Refuge: Terror from the Deep takes you into treacherous waters with a 2-6 player competitive dive and a 1-4 player solo and cooperative dive. Now available to back on Kickstarter 
Compete with rival divers in a frantic race to the escape pods, or work as a team to solve challenging objectives before the Kraken overwhelms you. Whichever game mode you choose, you'll be one of six unique characters in anmmersive, cinematic experience that takes you head to head with an angry Kraken! 
John "We're really excited about bringing this game and this world to life. There aren't a lot of people making adventure miniatures games that are under an hour and affordable, and we think players are going to really love it."
Where does your passion for board games come from, were they a family tradition or is it a more recently acquired hobby? 
John – "I grew up playing all sorts of games with my family, who are intensely competitive gamers. I've always loved games – and some of my favorite childhood memories are sitting on the floor during family vacations playing card games. I started playing hobby games with Magic: The Gathering in 2001 and haven't stopped since!"
For me, it's great to see that boardgamers come from such a variety of backgrounds and lifestyles. Gaming was never a part of my growing up, but has been a big part of my adult life as it allows me to escape the everyday stress that comes with life in general. It also allows a level of connection that we can't get through anything else, play is definitely a massive part of mental wellness and community building.
What were the unique challenges of designing a game that has both competitive and coop modes? Where do you get inspiration from? 
On Terror from the Deep, I worked very closely with Floyd Lu, who designed the original Refuge: a Race for Survival. Together, we built out a whole world for our divers to inhabit, and used that to drive core gameplay. Competitive gameplay was adapted from B&B Games Studios' 2016 release The Refuge: a race for survival, so we had a solid starting point. The most challenging point of crossover was the character abilities, which we spent lots of time playtesting to make sure they felt awesome in competitive and cooperative dives.
For the cooperative and solo dives, our overall vision was that we wanted to bring a kind of monster-movie adventure to your table. So we used that as kind of a North Star to guide us when we needed to make design decisions.  I watched a lot of horror and action movies and tried to figure out what story beats we wanted to translate to the tabletop. A typical play session might see you get down on the ocean floor to conduct a science experiment, discover a secret shipwreck, then get devoured by the Kraken and cut your way out from the inside!
Where do you see yourself or B&B in the next 5 years – are there more plans in the works or focusing on Refuge at the moment? 
I just finished working with B&B on another title releasing later this year from B&B – Folded Wishes, and am really excited about continuing to collaborate with Floyd on future releases. We have some amazing things on the horizon.
If you were to recommend one top 100 game on BGG what would it be and what is one 'hidden gem' of a game that you love? 
Of the top BGG games, Concordia is a masterpiece of elegant design. I can't get enough and highly recommend it to to everyone. (Ed – This is seriously making me want to buy a copy of Concordia, even though I have numerous others Euros!)
My current favorite "Hidden Gem" is the Korean speed game "Layers" by Happy Baobab. It's an incredibly fun, vibrant game that you can play with almost anyone.
Make sure to check out The Refuge: Terror from the Deep now on Kickstarter!