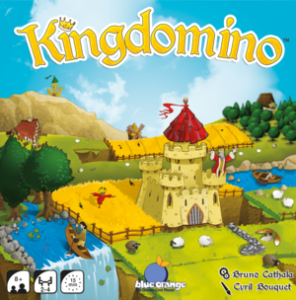 Kingdomino won one of the most prestigious awards for board games, the Spiel des Jahres in 2017 – but is it that good? Yes, and no. 
The game revolves around the claiming and placing of tiles in a 5×5 block that scores the most points by having the most contiguous land types. 
This is a simple and short game, so I'm going to keep the review the same, so here are the positives: 
It is played in 15-20 minutes, meaning that it is a fantastic filler game; 

Game play is accessible to a massive range of ages, from probably about 5 and up. 

Allows a great entrance point to gaming in general. 
As for the negatives if you have a group of avid gamers this one is probably going to be far too light but that's OK. The Spiel is often awarded to a game that is not only well designed, but also accessible for a range of players, and Kingdomino definitely hits the spot for that. 
In my opinion Kingdomino is not a great game but it definitely hits all the marks that it needs to for the Spiel des Jahres. Once you know how to play, the game can easily be played in 10 minutes as a warm up for more in depth games which is where this game shines. 
What else you might like
Quacks of Quedlingburg – good family fun with a simple rule set. Longer game which may lose the interest of younger players. 

Deep Sea Adventure – Push you luck family game that is played in about 10-15 minutes. 

Patchwork – family game which is a tile laying treasure (awesome app version as well if you want to check it out)