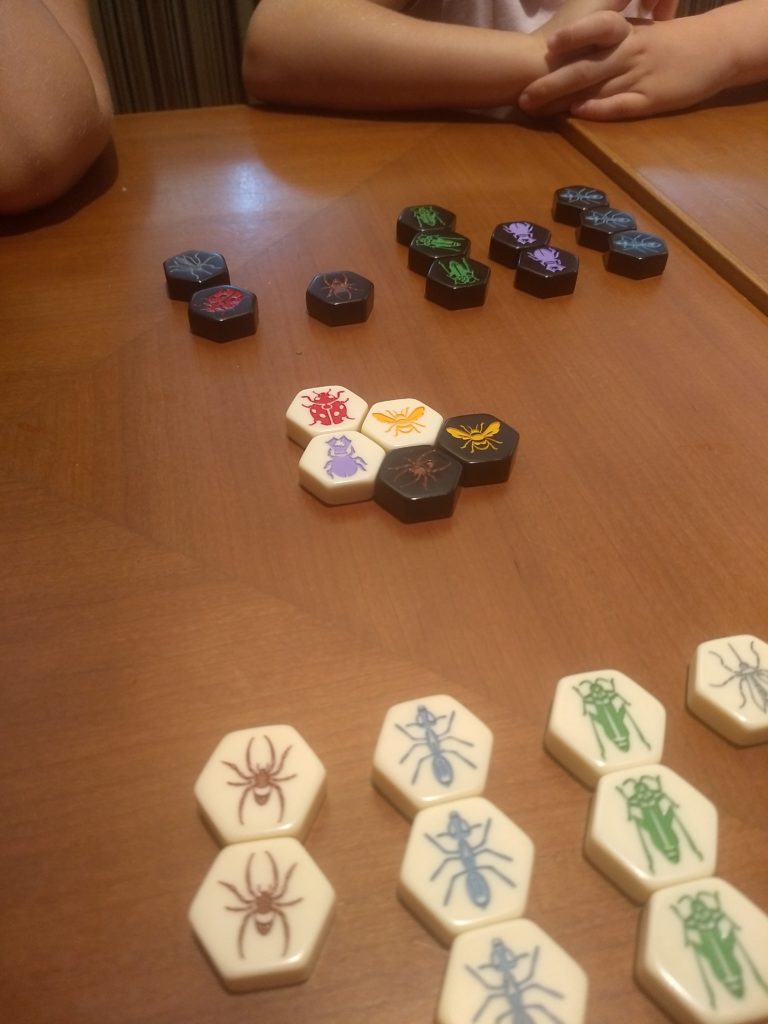 Hive Pocket was one of the games that easily made it on our Best Travel games list a little while back, for good reason. It is easily portable, has massive replayability and fantastic components.
The biggest issue that I have with Hive is that it is a game of skill, that is that there is no luck in the game at all. It is board-less Chess. But I hate Chess, I never got the hang of it, I couldn't deal with the fact that the opening move or two would often be the one that determined the rest of the game. Chess became infuriating to me, because the more you play, the better you get and no-one who is a skilled player wants to tell you that at the outset. Skilled players just want to lull you into their Venus flytrap and giggle about their intellectual superiority when they take your King in a tiny amount of moves, or even worse guffaw and say 'Are you sure ' as you make your first move. Yes, I am sure, what would you know you are five….
So why is it that I like Hive so much? Maybe it's the colourful bugs and the fact that this game, unlike Chess, has expansions that you can add on. It also is a lot more casual than a lot of skills based games – take it out of your bag and you can be playing anywhere you want in a matter of seconds. I have played Hive Pocket on planes, on park benches and on a recent trip to Japan when we were stuck at Osaka airport. There is just something that is so accessible about this game, as it is such a quick study. I have heard of people using Hive as a way to bond with others when travelling alone overseas, and what better way to do it?
But what is it? Hive consists of 13 hexagonal tiles for each player, including a queen. The goal of the game is to surround your opponent's queen in any way possible, meaning that they can still lose if their own pieces are surrounding their queen. There is nothing more satisfying than making someone inadvertently block their own queen, especially that moment when they realise that it is the only move available to them.
If you are at all on the fence with Hive, you can always check it out on some of the online platforms, but I do feel that you miss something there, primarily the tactile nature of the game as well as the interaction between you and your opponent.
Seriously, if you have been putting off playing this game at all, I would highly recommend checking it out, often you can pick it up for around $25 from most major games retailers. With the amount of plays that it gets, it has to be one of the best bang-for-buck games in my collection.
Conclusion – DO IT!